The Judicial Officer and the Child Witness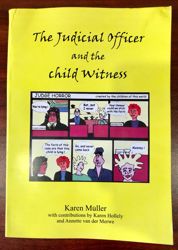 R 620.00
R 710.00
SAVE R 90.00
The Judicial Officer and the Child Witness
Estimated Dispatch Date:
15 Aug 2022
The Judicial Officer and the Child Witness
Share:
Description
It is widely accepted that testifying in court creates particular difficulties for children. When children are the victims of an alleged crime, these difficulties become even more pronounced. In order for the judicial officer to make an informed decision, it is vital that there be some understanding of the officers with the necessary information to assist them with the task of presiding over cases involving child witness testimony. Reference to international and national law and research, and an emphasis on a multi-disciplinary approach, provide the judicial officer with a holistic view of sexual offence cases. The combined experience and expertise of the author and contributors to this handbook ensures that the information is both practical and comprehensive.
Product Information
ISBN13 (SKU)
9781868281619
Title
The Judicial Officer and the Child Witness
Country of Publication
South Africa
Course Codes
AZA3770, ISIC7311, ZUG3054
Related Products
This product has no related products.