Introduction to Work Study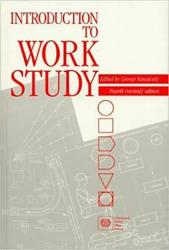 R 1150.00
R 1320.00
SAVE R 170.00
Introduction to Work Study
G Kanawaty; CR Wynne- Roberts
Out of Stock
Can Order
Non Refundable
Estimated Dispatch Date:
11 Jul 2022
Introduction to Work Study
Description
This highly successful book, which describes the basic techniques of work study as practiced in many parts of the world, has been widely recognized as the best available introduction to the subject for work study practitioners, teachers and students. It provides training in method study and work measurement and covers not only "machine shops" but also process industries, the services sector and office work. Reference is made throughout to the use of information systems and computerization to solve work study problems.
Product Information
ISBN13 (SKU)
9789221071082
Title
Introduction to Work Study
Author
G Kanawaty; CR Wynne- Roberts
Publisher
Turpin Distribution
Country of Publication
Switzerland
Related Products
This product has no related products.