Heat and Mass Transfer in SI Units: Fundamentals and Application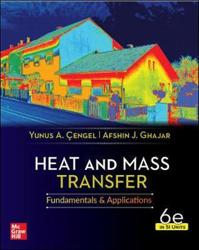 R 1180.00
R 1360.00
SAVE R 180.00
Heat and Mass Transfer in SI Units: Fundamentals and Application
Estimated Dispatch Date:
14 Jul 2022
Heat and Mass Transfer in SI Units: Fundamentals and Application
Share:
Description
With complete coverage of the basic principles of heat transfer and a broad range of applications in a flexible format Heat and Mass Transfer: Fundamentals and Applications by Yunus Cengel and Afshin Ghajar provides the perfect blend of fundamentals and applications. The text provides a highly intuitive and practical understanding of the material by emphasizing the physics and the underlying physical phenomena involved. This text covers the standard topics of heat transfer with emphasis on physics and real-world everyday applications while emphasizing mathematical aspects. This approach is designed to take advantage of students' intuition making the learning process easier and more engaging. McGraw-Hill Education's Connect is also available as an optional add-on item. Connect is the only integrated learning system that empowers students by continuously adapting to deliver precisely what they need when they need it how they need it so that class time is more effective.
Product Information
ISBN13 (SKU)
9789813158962
Title
Heat and Mass Transfer in SI Units: Fundamentals and Application
Author
Y.A. Cengel, A.J. Ghajar
Country of Publication
Singapore
Institutions
University of Pretoria
Course Codes
MTV410, CIO310, CIO320
Related Products
This product has no related products.