How to pass with maximum distinctions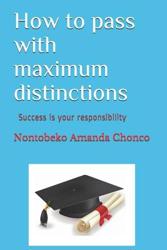 R 530.00
R 610.00
SAVE R 80.00
How to pass with maximum distinctions
Out of Stock
Can Order
Non Refundable
Estimated Dispatch Date:
15 Jul 2022
How to pass with maximum distinctions
Description
This book is a two in one book. The first part of the book focuses on explaining the study techniques or methods which will help students on how to study to get maximum distinctions. The second part of the book aims to motivate and encourage students about success. The book is written with the purpose of changing people`s lives especially the students by outlining the importance of passing with good marks and also by motivating students about success. The author of this book Amanda Chonco, believes that passing with good marks requires students to be motivated. She believes that the reason why some students do not make to the top is because they lack motivation.
Product Information
ISBN13 (SKU)
9798696696157
Title
How to pass with maximum distinctions
Author
Nontobeko Amanda Chonco
Related Products
This product has no related products.