Contemporary Issues in Human Resources Management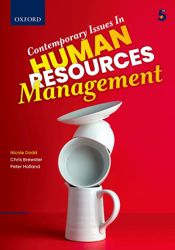 R 540.00
R 620.00
SAVE R 80.00
Contemporary Issues in Human Resources Management
W. Chinyamurindi, A. Cox, B. de Villiers, B. Robinson, R. Bothma, A. Mazingi
Out of Stock
Stock on the Way
Estimated Dispatch Date:
10 Jan 2024
Contemporary Issues in Human Resources Management
Share:
Description
Contemporary Issues in Human Resources Management is aimed at senior undergraduate HR students and offers them practical insights into the working world of HR. One lecturer commented that it is one of the few books that "told the truth about HR". The textbook is written by a group of local and international authors, as well as South African practitioners. It presents an integrated approach, applying both seminal and current theories and models to the contemporary workplace. It examines the latest developments within the field of HRM and discusses the impact on organisations of the current, often disruptive environment, including that of Covid-19 and the 4IR. It also provides the reader with the broad range of challenges and opportunities in the field, and how HRM has evolved to promote growth and development. Topics are positioned in such a way so as to lend strategic and innovative perspectives to ensure success in local and global contexts.
Product Information
ISBN13 (SKU)
9780190744113
Title
Contemporary Issues in Human Resources Management
Author
W. Chinyamurindi, A. Cox, B. de Villiers, B. Robinson, R. Bothma, A. Mazingi
Publisher
Oxford University press
Country of Publication
South Africa
Related Products
This product has no related products.