Companies and Other Business Structures in South Africa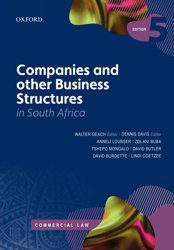 R 590.00
R 680.00
SAVE R 90.00
Companies and Other Business Structures in South Africa
D. Davis, W. Geach, Z. Buba, D. Burdette, D. Butler, L. Coetzee, A. Loubser
Low stock (Order Online)
Stock on the Way
Estimated Dispatch Date:
02 Dec 2023
Companies and Other Business Structures in South Africa
Share:
Description
Companies and other Business Structures in South Africa offers a clear and practical approach to the law relating to companies, close corporations, trust entities, partnerships and financial markets. The fifth edition is comprehensively revised to address the extensive common law jurisprudence that has developed since the Companies Act 71 of 2008 was promulgated, and offers expanded commentary to support meaningful understanding and practical application of the legislative provisions and common law. In addition, the fifth edition offers a new chapter that discusses the obligations of business enterprises in relation to human rights.
Product Information
ISBN13 (SKU)
9780190758783
Title
Companies and Other Business Structures in South Africa
Author
D. Davis, W. Geach, Z. Buba, D. Burdette, D. Butler, L. Coetzee, A. Loubser
Publisher
Oxford University press
Country of Publication
South Africa
Institutions
STADIO, North-West University, IIE MSA, Varsity College
Course Codes
BUEL6212, COWR7112, LAES5111, LAES7321, LAES7411