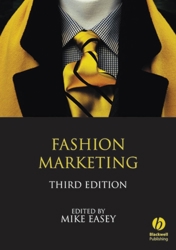 R 720.00
R 830.00
SAVE R 110.00
Estimated Dispatch Date:
04 Jul 2022
Fashion Marketing
Share:
Description
Clothing that is not purchased or worn is not fashion' (to paraphrase Armani) Knowledge of marketing is essential to help ensure success and reduce the risk of failure in fashion. For the designer starting up in business, this book offers a guide to the major decisions that will enable you to fulfil your creative potential and be a financial success: What are the major trends we should be monitoring?; How should we set our prices?; What is the most effective way to get our message across about the new product range?; Which colour-wash will be the most popular with buyers? Marketing is now a firmly established element of most fashion and clothing courses. Fashion Marketing is written to meet students' requirements and has many features making it essential reading for anyone involved in the fashion and clothing business
Product Information
ISBN13 (SKU)
9781405139533
Country of Publication
United Kingdom
Institutions
Stadio - School of Fashion
Related Products
This product has no related products.