Business-to-Business Marketing (E-Book)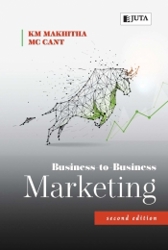 R 360.00
R 410.00
SAVE R 50.00
Business-to-Business Marketing (E-Book)
Estimated Dispatch Date:
Access Code mailed upon payment confirmation
Business-to-Business Marketing (E-Book)
Share:
Description
Business-to-Business Marketing is the first B2B marketing book in South Africa written by local academics. Its content therefore includes material to which South African students of B2B marketing can relate more easily. This book is about businesses marketing their products and services to other businesses and covers concepts related to this environment. It gives valuable insights into business-to-business marketing management, as well as analysing B2B buying practices, supply chain management, the selection of business customers and the development of a B2B marketing strategy. It provides readers with an understanding of what B2B marketing is and how it differs from business-to-consumer (B2C) marketing. The book has a strong theoretical basis, while also exploring many case studies from a South African perspective.
Product Information
ISBN13 (SKU)
9781485130895
Title
Business-to-Business Marketing
Author
K.M. Makhitha, M.C. Cant
Format Type
E-Book - Vitalsource
Institutions
Rosebank College
Course Codes
BTBM6212, BTBM6222
Related Products
This product has no related products.